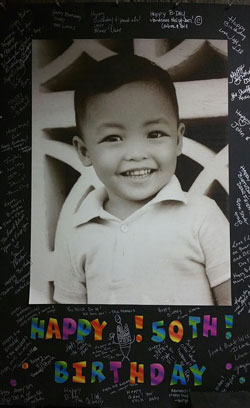 I found this poster in my basement yesterday. It was a poster that my wife, Heather, made for my 50th birthday celebration. When I glance at the 2 and 1/2 year old smile, it reminds me that that boy was once full of JOY and no cares in the world. I paused and wondered what it was like to be so young, and innocent and with all my life ahead of me. A world full of possibilities.
Now, at 53 yoa, I yearn to have that same feeling of JOY in my life. A feeling of being fully accepted and deeply loved. Though the days that make up my life is full of ups and downs, and at times full of heartache and pain, I always try to keep GRATITUDE at arms reach, next to me.
When times get tough, I remind myself that six years ago, I was almost gone from this Earth. I picture God's arm wrapped around my shoulders at every moment always encouraging me to forge on and continue to do the work of serving and Loving his people. I am eternally grateful that I can continue to serve in this noble profession that I was chosen for and to inspire others to not lose hope when times are tough. To remind them that we all share the same challenges in our life here on Earth. And that the joy comes from serving others.
Thank you everyone, for all your continued prayers and giving me continued opportunities to celebrate with gratitude and share MY LIFE with YOU.