The Harlem Wizards came to Berwyn, Pennsylvania on a very snowy first day of Spring.
The amazing basketball performers played against the staff of teachers from our local area high school, at Conestoga High School.
The crowd was amazing and the attendees, adults and children alike enjoyed the show very much. My 9 year old, Cameron, wanted to be there to be the third person in line so he could win a special prize. This was provided he remember to utter the the secret sentence to the person at the gate. Well, we got there thirty minutes early, the very first people in line. In fact it we weren't even supposed to be allowed in the gymnasium until opening time at 6pm.
But, we pleaded with the gentleman at the door to please allow us to wait by the corner since it was cold and snowy outside. After a little hesitation, he allowed us to wait inside. I promised him that we would not get in the way as the masses of volunteers carted bottles of water and a variety of food and snacks for the spectators. Cameron and I had 30 minutes together to observe all the ruckus behind the scenes.
When we were finally given the ok to go in, a very nice lady had Cameron sign in to be the FIRST person to arrive. He was able to recite the secret sentence flawlessly and was give a full-size basketball as first prize. We later had it signed by two of the Wizard players.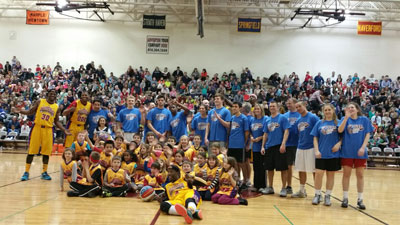 It was only 6pm when we made our way to the stands. We were the only spectators in the whole gym. There were only 3 players from the Harlem Wizards practicing at that time. I observed that one of them had an abnormal running gate while he was shooting baskets to warm up. So I approached him to inform them that I was a sports chiropractic doctor (having just completed my one year post-graduate training as a Certified Chiropractic Sports Physician).
A very nice gentleman of a player, Gerald Warrick aka, Sky-Walker, was ecstatic that I offered to check his spine to see if we could improve his performance on the court that evening.
To my surprise, he was unfamiliar with chiropractic care, especially sports chiropractic. Since I hadn't planned to be a side-line doctor that night, I didn't have my portable table with me. Necessity being the mother of invention, we walked over to the bleachers and I proceeded to perform a functional exam.
I carefully explained to Sky-Walker the notion that his brain and nerve system controlled the function of his whole body especially the coordination of his movements. He confessed to me that he was having difficulty moving because his hips have been very tight, despite using the foam roller in an attempt to release it.
I talked him through the functional evaluation, testing his movement patterns in search of weak muscles as a result of spinal misalignment (subluxations) that was creating a pattern of imbalance in his movement. After a few minutes of analyzing and correcting his cervical, thoracic, and lumbar spines and his hips; he jumped up from the bleachers with a big smile and said that he felt so much looser and lighter.
He thanked me profusely and wanted to know how much he should pay me. I told him it was my custom to care for athletes whenever I could and that he didn't owe me anything but to give the crowd his best tonight. I could tell he was shooting better after the adjustments.
Later that evening, I was able to check and adjust their announcer for the evening and Roscoe Johnson-aka, Sarge. They were both very thankful and relieved as well and was kind enough to pose for a few pictures with us. It was a fun night all in all, with Cameron as my camera man.


Sarge and I exchanged numbers, he said that he would contact me, if the team needed my assistance in helping them perform better since they had a game the next day.
Cameron and I walked together through the cold and windy, almost empty parking lot on the snowy first day of Spring 2015. Father and son having a one on one time together.