Our Success Stories
Out of the thousands of patients we have rendered care to over the last 25 years, Here are what several of them have to say about their experience in our practice.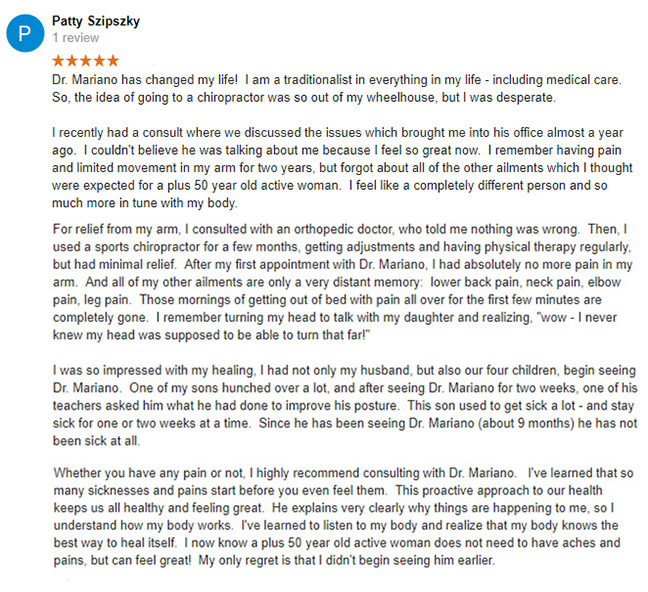 ---
Ask yourself this question:
"Is your Body's Innate default settings are to be Sick or to Be Healthy"? These testimonials reflect our observation from 25 years of being in practice. While they capture our amazement as we observe our bodies capacity for healing itself, always remember that one's goal should not be to treat a "disease" or suppress a "symptom".
The goal of Crisis/Emergency care:
To keep a patient from dying ( maintain an airway, stop bleeding, stabilize vital signs) through emergency medical interventions.
Utilize drugs, surgery and other medical interventions necessary to assist what the body can no longer do for itself due to the nature of the injuries. We all need this care in case of emergencies.
The goal of Holistic Healing is to:
IDENTIFY the cause or causes of whatever the problem you have been suffering from.
ADDRESS the root cause or causes of your problem in the proper sequence that your body needs it to heal.
SUPPORT the body in healing by utilizing methods such as nutritional supplementation, homeopathic remedies, diet and lifestyle changes to provide the support necessary for the body's capacity to heal.
Do you have a success story you would like to share? We'd love to hear your story!
I Have All The Mobility Back! By Tricia G.
I just got to let you know that I have had some pretty bad wrist pain since March earlier this year. I had no idea what I did to it because I couldn't remember an exact moment where I could've injured it. So I assumed I tweaked it during a fall and didn't realize. A bunch of chiropractors (I went to 3 different ones) have tried to fix it with adjustments, xrays (nothing showed up), heat, ice, TENS, exercises but it still would not go away. I just assumed it was something I'd have to deal with for forever. BUT THEN, after the adjustment yesterday, 97% of the pain went away! I still feel a little bit of pressure, but I have all the mobility back! which is so amazing to me after all this time that I tried to heal it and just gave up. So THANK YOU SO MUCH!!
Pleased With The Care By Diana D.
I just couldn't be more pleased with the care I'm receiving and look forward to each and every visit with Dr. Mariano. The office is always pleasant to enter and is decorated with a sense of physical and spiritual well being for all in mind. And the staff is truly courteous and caring.
My Success Story By Kelly Bainbridge
My Success Story (Carpal Tunnel) By Helen E. January 2006
I was referred to Dr. Mariano's office by my daughter De. She is a friend of Dr. Mariano's wife. My main problem was my hands. I had been diagnosed with carpal tunnel in both wrists. I had severe pain in my wrist and hands. My hands were also numb and weak. The carpal tunnel limited my life in many ways. I could not knit or crochet anymore, which I loved. I also could not put on jewelry or open jars. Anything that required strength or fine motor skills was something I could not do.Show More
Before seeing Dr. Mariano for holistic care, this problem had been building up over 2-3 years. In that time I had seen two neurologists and was scheduled for carpal tunnel surgery. I have seen very positive results since receiving holistic care with Dr. Mariano. My hands have regained strength and dexterity. The numbness has gone away and I am knitting again. I am feeling much healthier, I am sleeping better, I have more energy and much less pain in my back and joints. I even feel more mentally alert. Now that I have regained my health I am planning on continuing work toward a graduate degree. I had to stop going to school 2 years ago because of my health. I am very glad that I found Dr. Mariano. I now feel like my health is moving in a positive direction and I am looking forward to being more active and involved in life. Helen E.
My Success Story (RSD) By Barbara G.
After having two cervical fusions in 1996, it left me with a condition called "RSD." I have been in severe pain for the last 10 years. I was referred to Dr. Mariano's office by Jeanine Sacco. My condition has effected every aspect of my life. I was unable to go out socially, I could not work and I could not sleep. I had totally given up on ever enjoying life again. Before seeing Dr. Mariano I had been treated by orthopedists, neurosurgeons, and pain management physicians all with no pain relief. It sometimes left me worse.Show More
I cannot begin to explain the miraculous results I have achieved since seeing Dr. Mariano. Not only has my pain gone away, my emotional health is supported by being pain free, as I can look forward to living again. I am looking forward to enjoying life again with new prospects and challenges. I know that whatever lies ahead Dr. Mariano will be there to heal our mind, body and souls. Barbara G.
My Success Story (Crohn's Disease) By Carmela E. May 2003
Today is a great day! It is unbelievable to me that I am writing anything about the word success. I have been seeing Dr. Mariano for four months and he has turned around my condition where a team of doctors of all sorts could not. My story is not only a struggle with physical pain, but emotional pain as well. I was diagnosed with Crohn's disease in August of 2002 at age 32.Show More
This disease brings with it a number of physical problems; however, one of the most painful for me was the emotional attachment. My father suffered with this disease throughout my entire childhood, which left a lasting impression on me. I saw it destroy my father's life and now it was out to destroy me. I felt like I was struck down at the prime of my life – disabled and unable to work and function, as I wanted. Being labeled with the disease was bad enough, however, the ordeal I endured and the hopelessness of my situation caused me to think about my life and that I didn't want to live it anymore. Dr. Mariano has helped me understand how illness happens when the body is not functioning properly and that he thought he could help me. He provided me with hope; and as skeptical as I was, helped restore my health. I began having symptoms a little over a year ago. It started with a constant upset stomach but I saw my first doctor, an ophthalmologist, for an eye inflammation. The stomach problems continued and I began having low-grade fevers, joint pain, headaches, and overall fatigue. At first, my primary doctor thought I had a bacteria infection and put me on several different antibiotics. I knew that the medication wasn't working since I continued to have fevers while on the antibiotics. This lasted throughout the summer and grew into a crisis when my joint inflammation became so severe I was unable to walk. The swelling in my ankles, knee, and wrists quickly became progressively worse. I developed a skin rash on my lower legs. With the stomach problems still present, I began to have some bleeding problems. My primary doctor gave me another medication which did not work and I went to the emergency room, where after eight hours, was sent home with aspirin since the rheumatologist on call did not want to make the trip to see me. I was told to make an appointment later that week, but I obviously could not walk or use my hands let alone drive. At age 32 this was one of the most humbling experiences of my life. I went back home to stay with my Mom where she took care of me for three weeks while I had many, many tests conducted after seeing a rheumatologist, an ophthalmologist, a bacteriologist, and dermatologist. At last I was given a steroid, which reduced the swelling and gave me back my functionality. The incident left me depressed and mentally drained. The anti depressant drug prescriptions started to flow. Despite the continuous symptoms, I continued to work under duress. I still was not provided with a diagnosis and was encouraged to endure several gastrointestinal tests to help find out what was wrong. In the fall, I saw a gastroenterologist who, from the start, diagnosed me with Crohn's disease, an autoimmune disease that attacks the intestinal tract. I agreed to a colonoscopy and five days later found myself having severe bleeding at work. I immediately called my gastroenterologist and she said that I should expect to have bleeding since I had Crohn's and that I could come in the next day for a blood count if it made me feel better. Later that night, I passed out three times and was rushed to the hospital with no blood pressure. I literally almost bled to death. I thought that maybe I was meant to die. I had been in mourning over my "old life" for some time. It was a life without endless doctor visits and symptom free days. I was transfused at the hospital, given more steroids and sent home. I got better, but could not taper off of the steroids. This was a problem since steroids have severe long-term side effects and my only other options were stronger, more aggressive drugs. I was willing to endure the side effects of the steroids if it meant that I would have some semblance of my old life back. This is where Dr. Mariano came into my life. My husband and friends recommended that I see him despite my own reservations and that of my other family members. I did not want to go through interviewing another doctor or enduring any more tests, however, his methods were uninvasive and I thought I had nothing to lose but time and money. I also began to realize that the doctors that were treating me were using guesswork, so how could Dr. Mariano be any worse? In fact, I almost died from a doctor's incompetency. To my disbelief, Dr. Mariano's care did work for me. I'd never been to a chiropractor nor did I have back pain. He found severe subluxations in my spine that correlated to digestive functions. I was able to go off of the steroids completely and increase my health and functionality to 95% of what it was before I got sick. I cannot explain why his care works, but it does and that is good enough for me. I still don't feel that I have a firm diagnosis, nor do I care. My focus now is to continue on my path toward total wellness. I've rejoined a gym – something I thought I'd never have the energy or physical ability for. I eat what ever I want without stomach problems. I'm back to flourishing at my career, something that became threatened when I was ill. In short, I'm able to do everything I used to do. And that's all that I really wanted. It is truly a great day! Carmela E
Failure to Thrive
I remember the day vividly. I was sitting on the couch, head in my hands, praying for an answer to my 15-month old son Dillon's failure to eat solids and grow optimally. The phone rang and it was Dr. Mariano. What followed was nothing short of a miracle for my family. I knew Dr. Mariano's wife, Heather, from a holistic mom's parenting support group of which we are both members. I reached out to her to inquire about her husband's practice. Chiropractic was unfamiliar to me, a little scary, and certainly not something I would have thought of to help my son, but we were running out of options. We traipsed back and forth to hospitals, doctors, specialists, and invasive testing for five months. They had no answers, only suggestions of hospitalization, ceased breastfeeding, and placement of a feeding tube. Instinctively I knew this was not what my son needed, but I was getting increasingly anxious about the situation.Show More
With the first phone call, Dr. Mariano put my mind at ease as he put into words exactly what I was thinking and feeling. I made the choice to make an appointment and see what this was all about. We started our chiropractic relationship in February 2004, and since then haven't looked back. As I was educated on the spine and how its alignment holds a vital key to our health, Dillon's condition made more and more sense. We'd had a difficult, lengthy birth and a few falls that babies sometimes naturally experience. Before we began the adjustments, Dr. Mariano made sure that I had a good understanding of chiropractic care and its benefits. His compassionate manner made me comfortable entrusting my precious son to his care. Dillon and I were so exhausted with doctors and hospitals at this point. He was fearful, and rightfully so. Anyone who is a parent knows how difficult it is to watch your child in fear, pain, or sadness. This time it was different. It is no exaggeration to say that during Dillon's first gentle spinal adjustment his face lit up in absolute relief. He then looked at me and laughed. I was amazed. He still enjoys his adjustments at each visit. Five months later there is now a substantial change in Dillon. He eats like a normal toddler and has made progress both in height and weight. I am able to trust in the natural healing process and know that Dr. Mariano is just a phone call away when we need him or have questions. I am also now undergoing chiropractic care and feel better than ever as my body is functioning more optimally. Minor irritations that were always at the back of my mind, but were never enough to see a doctor, are now almost non-existent. Dr. Mariano's staff is so supportive, and I feel like this is a home away from home for us. Dr. Mariano has assisted us in more ways than I could possibly thank him for. We look forward to continuing our relationship with Dr. Mariano and his staff as we all watch Dillon grow and change together. If you are reading this and feel uncertain about chiropractic care and its benefits, I can only speak from personal experience and say that it has changed our lives. Ironically, I feel fortunate that I now know the benefits of continued chiropractic care even though the circumstances that brought us here were one of the most difficult periods of my life. My son is thriving, I am relieved, and we are blessed to choose to experience every beautiful day with optimal health. With Warmth & Light Deborah Lynn Shipley & Dillon Knox Rice
Chronic Ankle and Heel Pain
I suffered from severe pain in my heels and ankles. It felt as though I was stepping on raw nerves. I had unsuccessfully seeked aid from a podiatrist, a physical therapist, cortisone shots, reiki, chiropractic, and exercises, all of which produced only very short term relief. Dr. Jeff Chamberlain referred me to Dr. Mariano in May of 2007. The pain began in August, 2005. I was in pain with every step. I forced myself to continue doing all I was used to but I suffered with every step. I would dread having to walk. From the first session with Dr. Mariano, my pain began to diminish. As I continued, the pain lessened and today I am pain free! I have also noticed an overall increase in energy and feeling of well being.Show More
I am looking forward to living my life pain free. I plan to continue checking in with Dr. Mariano to make sure energy is flowing as it should be to keep up my good health. After suffering with terrible heel and ankle pain every time I took a step for two years, it is WONDERFUL to be pain free! N.E.T. has been a miracle to me. I will be forever grateful to Dr. Mariano for performing N.E.T. and Dr. Chamberlain for sending me to Dr. Mariano. Donna W.
Pediatric and Family Health
I was referred to the office by Becky Tholan. I was particularly concerned about my daughter Makayla who suffered from severe upper respiratory problems. She needed to use a nebulizer and Albuterol during the winters for the past two years. Makayla needed the nebulizer every 3 hours. Therefore, I had to stay home a lot to take care of her as well as my two older boys. Before Dr. Mariano we went to a regular doctor who diagnosed Makayla with an underdeveloped bronchial area. As a result, she had upper respiratory infections which one night prompted us to call an ambulance.Show More
The first results from care brought forth worse symptoms and I thought that Makayla needed to go back to the primary care physician. After about 2-3 weeks of care things began to get better. Now for the past year the attacks have been gone completely. Now that Makayla has regained her health I'm looking forward to never using the nebulizer again. Other members of my family have also benefited from care. My daughter Jillian had a bulge on her spine (from induced labor) and now it is gone. My son Christopher had bloody noses which have now gone away. Lastly, my husband Chris no longer has any acid reflux. Kelly B.
Mother and Daughter Digestive Problems,Vomiting, Depression, Menstrual problems
I first came into the office in July 2005 because my daughter had stomach issues, and we had exhausted every possible solution. She had been to a gastroenterologist, we tested our water, took her off dairy foods, brought her to a counselor, and finally after 10 years of this, her pediatrician diagnosed the cause of her constant vomiting and diarrhea to be postnasal drip. The nightly concoction recommended would be Claritin and Zantac. I did not want my daughter to be on medication every night and finally took a friend's advice to explore my holistic healthcare options.Show More
When I looked up holistic practitioners, Dr. Mariano caught my eye because he is a chiropractor and I felt comfortable with that approach towards holistic health. Dr. Mariano and his team made me feel so comfortable because they actually listened to my concerns! Within weeks Kayla showed great improvement. After one month she had stopped vomiting entirely and now she only has spells of diarrhea once a month instead of three times a week! I had to get my entire family in here and fast! I scheduled myself immediately and at the time I was going through severe depression. I was sick all the time with urinary tract infections, sinus infections, stomach issues, and irregular menstruation. At first, I did not stick to my schedule of 3 times a week and I made excuses that because of work I could not make my regularly scheduled appointments. Because of a job change, I started to get on a more regular schedule with my adjustments and I noticed results immediately! I was able to stop taking Lexipro (anti-depressant) and Ambien (for sleep) and I feel great because I realize you do not need this medication to function. With the love and support of the team, I started the sugar control diet and my health improved greatly. Really great things started to happen in my life as a result. I was able to leave my stressful job, which was the major cause of my deep depression, and I started working in a great healthy environment instead! This caused a chain on positive events to occur. As I started to surround myself with the healthy people at my job, healthy people started to appear in my personal life. I was also able to stop smoking, and I felt more motivated to exercise as I approached deeper and deeper levels of my healing process. Overall, my experience has been a deeply rewarding cleansing process. My body continues to go through miraculous changes and I am still detoxing from the old patterns I had conformed to since I had never been adjusted as a child. This cleansing process has shown me that God has given us all a gift. Our body is miraculously self-healing – all we need is a chiropractor to help our bodies function at their fullest potential free of subluxations. I look forward to my continuous self journey as Dr. Mariano helps my body release the subluxations caused by everyday life. I also look forward to the deeper healing I get to experience with the advanced techniques, such as the neuroemotional and neuromodulation techniques Dr. Mariano offers. I am excited and happy to be able to have this oopportunity to improve myself, emotionally, physically and spiritually and I thank God for blessing me by showing me what my body has known all along. Tracy B.
Depression and Anxiety
I first came into the office in October 2005. I found Dr. Mariano in the 411 directory. I have had depression for 8years. My depression started in 10th grade until last year. I was taking Zoloft and Wellbrutrin, but the medication was making it worse. The medication I was taking due to my depression started to cause weight gain, and this in turn made it difficult for me to accept myself, be OK with relationships and my self-esteem. Before Dr. Mariano, I had been seeing a psychotherapist which helped, but did get to the core of the problem. I battled with Anorexia and the psychiatrist treating the anorexia gave me Zoloft, which then caused weight gain which only added to the depression I was feeling. Last year I switched to the psychotherapist, which was better, but that only helps to deal with certain things.Show More
Since starting care with Dr. Mariano, it has been helping to deal with stress and anxiety and being OK with myself. I have also been able to get to the root and the core of the problem with NET & NMT. Because this advanced work relies on the bodies muscle testing, it helps people to address their past feelings and reactions. I am looking forward to facing the next stage of my lie now that I am learning to address my feelings and reactions to things in my life. I am currently working on job concerns and whether or not to change jobs. I am doing things I have always dreamt of doing without fear and having more confidence to do things in life Becky T.
My success story (Seizures and Allergies) Matt E – July 2005
I first came into the office on a dark and stormy night – February 15 2005 at the urging of my wife and daughter. Since adolescence I had suffered from summer allergies. Modern medicine provided some relief. Interestingly, I found better help from ancient Asian herbal medicines. Unfortunately, those medicines interfered with ailment number two. I had been diagnosed with "brain trauma epilepsy" in the mid-90's. The darn thing was the herbal medication not only defeated my allergies, helped me not catch cold or flu, helped control my blood pressure and weight; it also was helping me metabolizing the epilepsy medication like a house-a-fire. It was like I wasn't even taking it.Show More
So, goodbye 1st millennium medicine, hello again allergies; but goodbye seizures… My doctors (an Osteopath and a Neurologist) both good guys and both working together tried to minimize the impact to me knowing my aversion to medication. However, as with all medication, there is an impact, either too much or too little or some other areas of the body. Anticipating another sneezing, watery eyed, doped up summer, I agreed to take a chance with Dr. Mariano. I figured what the heck, he got Patty walking again. Maybe he had another miracle in his hands. Hey, it is the middle of summer and I have not touched a decongestant or antihistamine! Yahoo! I can count the sneezes I have in a day on one hand! My eyes only water during a particularly touching part of the movie "Terminator." I have also negotiated a reduction in the epilepsy medication with my Neurologist. Not gone but getting there. I look forward to continuing to improve my health under Dr. Mariano's guidance and coaching. I do want to get completely off of the epilepsy medication and the doping effect it has. While I have read and listened about the theory of Chiropractic care, I still find the practice and results amazing and phenomenal! I continue to have a gee-whiz feeling as continued adjustments improve my condition. I continue to be amazed at what is going on. Matt E.
---
Mariano Holistic Life Center, Inc. | (610) 640-4673